How to discuss Education and Training on a CV?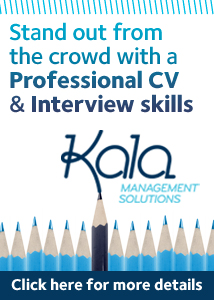 If you have completed Further Education and training, the CV is the perfect place to highlight this. However, many people either under or over sell their education history which can make it look bulky on the CV or dilute your message.
In general, there are 4 types of CV's:
Fresh Graduates or school leavers with no/limited work experience
Technical Experts/Professionals
People working in Academia
Experienced employees
For each group, the education section is dealt with differently which will be discussed below:
1.    Fresh Graduates or school leavers with no/limited work experience
When you have little to discuss by way of work experience but have completed a course, it would strengthen your CV to expand on your education to bulk up your CV. You could breakdown the primary subjects you covered, your thesis (if you completed one) or any major projects. Focus on subjects that would interest a prospective employer over listing every subject you completed. I often see the module titles on CV's. These do not always look clear or explain what you learned – e.g. Operations Management 1 – Bundle like subjects together and describe them in common terms that an employer will recognise. Another option is to highlight the skills you learned that would be transferrable for the role you are applying for.  You should put your education at the beginning of your CV.
2.   Technical Experts/Professionals
For technical people, it is good to highlight your qualifications and skills by listing them. Employers are familiar with a lot of the courses – for example ACCA, CIMA, PPC so there is little need to include a breakdown of subjects and results. It would be more beneficial for you to just list the year to and from when you took the course and the qualification obtained. If achieved anything outside of the usual qualification, highlight this also such as additional subjects, high grades and special projects. You should put the education section after your career history section on your CV.
3.    People working in Academia
If you work in academia, the education section of your CV would be very important. It is common for it to be quite long and detailed. It would be common to include reference to your publications, thesis titles and oftentimes, the Dean/Supervisors you worked with. Hyperlinks to your work can be very effective. Depending on the amount of experience you have working, the education section can come first or second on your CV.
4.     Experienced employees
For experienced employees, the education should come after your career history. You should list what you have completed and the year. Your career history will be more important than your education so if you are stuck for space, do not waste it on expanding on subjects taken and other details on your education. For example:
2001 – 2004 – 2.1 BA in History and Geography – UCD, Dublin.
You can also add your title (eg BA, BSc, MSc, MBA, PMP) after your name at the beginning of your CV. This means, straight away at a glance a prospective employer knows your qualifications.
Best of luck with your CV writing.
Written by Gillian Knight, MD of Kala Management Solutions www.kala.ie. We focus on helping people write a great CV and perform their best in interviews. If you would like to book a coaching session or help with your CV or cover letter mail info@kala.ie or go to www.kala.ie/cvwriting for more details.