Pre Interview Preparation
Pre interview tips to help you be relaxed. The better prepared you are, the less likely you are to feel nervous in an interview. You will also be more prompt with your responses and succinct in your answering. Remember the interviewers are not there to catch you out or interrogate you. It's in their best interests to put you at ease and bring out the best in you. They want you to be the best person for the job so they can finish the interviewing process. Interviews can be a very stressful experience for people. Below are some practical tips which are proven to reduce stress and lead to improved performance on the big day.
Revisit the application you placed for the job and the job specification carefully.
Visit the company website and any other company data that you can obtain. Study the company's main products/services, history, principals and challenges as you see it. If there have been any major recent developments for the company, be prepared to talk about these.
Where possible know who the company's competitors and key clients are.
Be prepared to know and understand the key competencies required for the role.
Know what you would do in your first week/month with the new company?
Look at your key strengths and areas for improvement – prepare at least 3 of each.
Look at answers as to why you are looking to leave/left your previous employer.
What did you like the most/least about your current/previous role?
Why are you interested in this role and company?
Why are you the best person for the role?
How would you/your colleagues describe you – positive/negative?
Where do you see yourself in 3, 5 and 10 years?
During the interview, answer the questions you are given clearly. This means you need to listen carefully to what's being asked.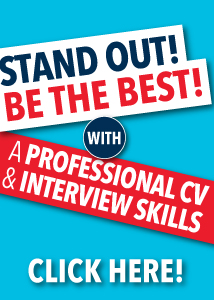 Know and believe you are the best person for the job. They called you for interview for a reason – your CV told them you can do the job, now you just have to verify that. Knock em dead 🙂
Please see follow on articles on the Night before the interview and the day of the interview and also Competency Based Interviews for more great tips. If you like this article, please visit www.kala.ie for many more. For further information on interview coaching or CV advice, contact info@kala.ie.
Written by Gillian Donohoe MSc FCIPD, Managing Director, Kala Management Solutions Limited. www.kala.ie.