A business casual dress code is in place at the company, because we believe that a more casual work environment mirrors the more flexible, informal organisation that we need to become.  We can now accommodate people who are comfortable wearing formal business attire as well as those who prefer less formality, which is another way the company will reflect the diverse preferences of its employees.
Please use your best judgement to ensure that your attire presents a professional appearance in the face of clients and other external parties.  As a general rule, when in doubt, consult your supervisor or manager. Please make sure that visitors to the premises, including auditors are given a copy of the dress code to avoid embarrassment. Anyone in breach of these standards will be sent home and the time taken for this purpose will be considered unpaid or treated as a holiday.  Repeated breaches will result in disciplinary action being taken.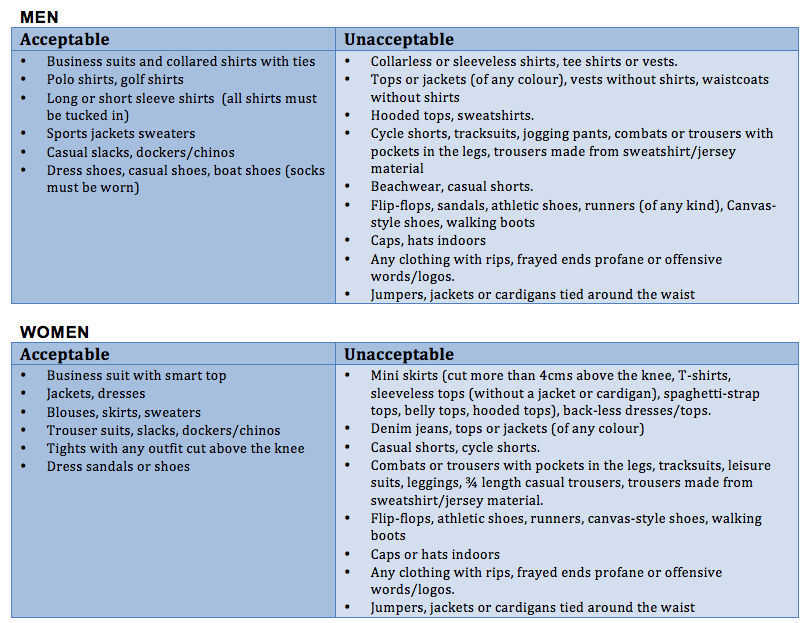 In all instances, clothes must not be too tight or cut too low and must be sufficient to fully cover to the waistline and top of the lower garment.  At all times clothes must cover mid-rift, back etc.
The above list is not exhaustive and may be amended from time to time, in which case a revised list will be advised to staff and posted on the company notice boards.
For further details and assistance on writing company policies, please email our HR consultants at info@kala.ie or call 01 406 14 75.