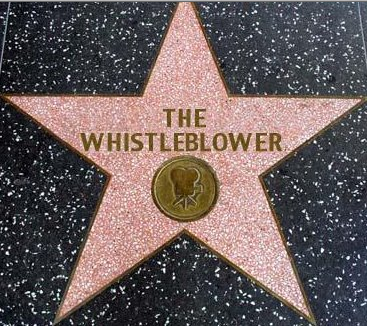 Why was the whistle-blower policy introduced? 
This Whistle-blower policy is in line with the government of Ireland's commitment to adopting a comprehensive whistle-blower protection law in January 2012. The final bill will reportedly cover both the public and private sectors. The government wished to get it enacted early so that people who genuinely see wrongdoing, public or private, can blow the whistle without feeling unprotected. It is another instance of people-power bringing about very necessary change and is there to protect and encourage people speaking out about abuses, malpractices and injustices.
To aid companies, a sample policy is given below. Employers should add this policy to their company handbook. It should revert back to the company disciplinary procedure and works well with an open door policy company culture. It also adds an extra layer of protection for the employer as it highlights your support of employee protection and good working practices. Some employers do not like the term "whistle-blower". If this is the case, why not use the term "speak-up" policy instead.
Sample Whistle-blower Policy 
This policy is intended to encourage Board members, staff (paid and volunteer) and others to report suspected or actual occurrence(s) of illegal, unethical or inappropriate events (behaviours or practices)without retribution.
The Whistle-blower should promptly report the suspected or actual event to his/her manager.
If the Whistle-blower would be uncomfortable or otherwise reluctant to report to his/her manager, then they can report the event to the next highest or another level of management, including to an appropriate Director or Board.
The Whistle-blower can report the event with his/her identity or anonymously.
The Whistle-blower shall receive no retaliation or retribution for a report that was provided in good faith – that was not done primarily with malice to damage another or the organisation.
A Whistle-blower who makes a report that is not done in good faith is subject to discipline (this should link to the company handbook disciplinary procedure), including termination of the Board or employee relationship, or other legal means to protect the reputation of the organisation and members of its Board and staff.
Anyone who retaliates against the Whistle-blower (who reported an event in good faith) will be subject to discipline, including termination of Board or employee status.
Crimes against person or property, such as assault, rape, burglary, etc., should immediately be reported to local law enforcement personnel.
Managers and/or Board members who receive the reports must promptly act to investigate and/or resolve the issue.
The Whistle-blower shall receive a report within five business days of the initial report, regarding the investigation, disposition or resolution of the issue.
If the investigation of a report, that was done in good faith and investigated by internal personnel, is not to the Whistle-blower's satisfaction, then he/she has the right to report the event to the appropriate legal or investigative agency.
The identity of the Whistle-blower, if known, shall remain confidential to those persons directly involved in applying this policy, unless the issue requires investigation by law enforcement, in which case members of the organisation are subject to subpoena.
For further information email info@kala.ie or call 01 406 14 75. 
Written by Gillian Donohoe MSc FCIPD, Managing Director, Kala Management Solutions Limited.