Kala Management Solutions offers 'straight talking human resource (HR) advice' for SME's and large businesses across all industries. Our goal is to provide HR management solutions to suit long and short term strategic business needs. We believe that if a strong HR infrastructure is implemented, it greatly reduces the risk of HR related issues which can have disastrous consequences for any business. Our team achieve this through effective listening to your business needs and then offering bespoke solutions for immediate issues and at the same time setting up structures to failsafe the business from reoccurrence and additional risks. This is all achieved in a cost effective and swift manner with an overall aim to set solid 'foundations for your future'.
HR Services include: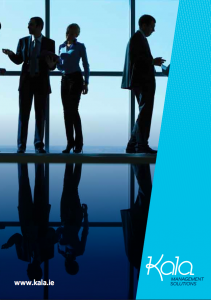 Developing new or reviewing existing HR policies & procedures
Employee handbooks
Contracts & conducting HR compliance audits

HR services

Outsource HRM -Design a high level HR function which only requires a HR administrator to run saving staff costs

Services

Recruitment and Selection
Implementing systems for absence management & all HR administration which save time and money
Assessing the efficiency & effectiveness of HR structures, practices & systems in supporting overall business goals
Providing redundancy advice & support & unfair dismissals support
Manage WRC employee grievance and disciplinary issues
Conducting in-depth job analysis to develop job specifications & creating cost effective job designs
Building high performance management system and motivational tools. This include non monetary rewards
Partnering with clients on recruitment & executive search projects to ensure "right hire, first time"
Executive coaching.
Designing tight tied agent agreements and other forms of contracts to protect your client base.
Please mail info@kala.ie or call 01 619 0282 for further details on our services and fees.

www.rte.ie  www.revenue.ie www.lrc.ie www.labourcourt.ie www.welfare.ie